What to consider when choosing the Freight Runner® system:
Will you have existing trailers to retrofit?
What is the estimated weight of your cargo?
Will you be hauling partial loads?
Is there interest in a dock-to-trailer set up?
What power option suits your needs?
Freight Runner® D2T (Dock to Trailer)
Requires trailers to be set up electrically and dock systems have all the controls. Each system needs specified as per the usage requirements.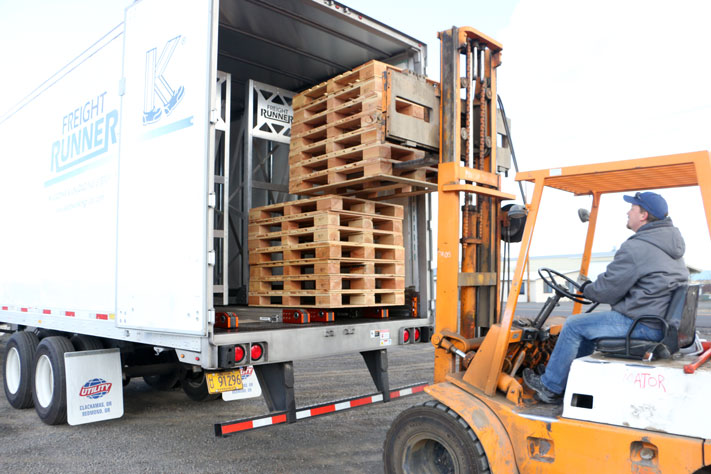 Freight Runner® TR (Trailer)
Multiple drive options and configurations. Standalone system options. Typically driven via hydraulic motors.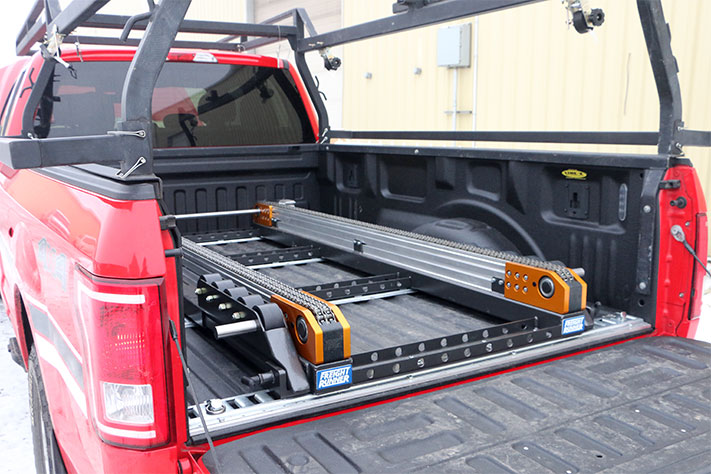 Freight Runner® LT (Light Transit)
12VDC motor that has a light capacity of 2,000 lbs. Designed for intermittent use in truck beds and delivery vans.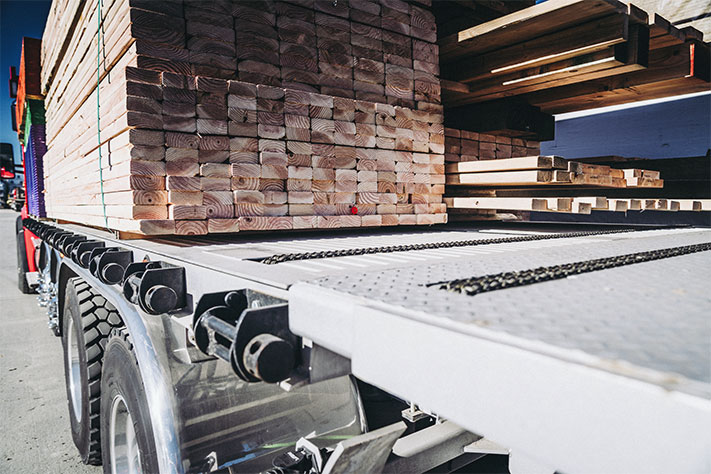 Freight Runner® SS (Side Shifter)
Shifts the load to either side of the truck to ease in unloading.
Freight Runner® SC (Straight Conveyor)
Inner warehouse conveyors used for conveyance on an assembly line or for transfer within a facility. Driven electrically for speed control and longevity.
KEITH® Freight Runner® Q & A
Q: Explain the basics of how a KEITH® Freight Runner® conveyor works:
A: The KEITH® Freight Runner® system is a conveyor designed to create seamless cargo transfer between dock and trailer. Installed in both the trailer and at the dock, it replaces the standard, manual process of cargo handling that includes a forklift operator and and/or an employee using a pallet jack. Once a forklift positions the unitized cargo onto the system during the loading process, the conveyor automatically indexes it forward. The Freight Runner® system can move up to 30 ton of cargo at more than 30-feet per minute. The auto indexing function allows the operator to easily adjust the index length to accommodate the cargo size.
Q: How can a KEITH® Freight Runner® system increase productivity?
A: The Freight Runner® dock-to-trailer conveying system integrates warehouse automation with shipping, addressing major issues associated with the loading and unloading of cargo at the dock. By seamlessly connecting the dock conveyor to the trailer conveyor, loading/unloading is both safer and faster. Personnel or equipment no longer need to cross the threshold of the trailer, eliminating confined space entry and reducing forklift damage to cargo or trailers. Depending upon the application, load/unload times at the dock can be reduced from 45-60 minutes to less than 5 minutes.
Q: What sets KEITH® equipment apart from the competition?
A: The unique thing about the KEITH® Freight Runner® system is it requires little or no facility or trailer modifications because it is designed to drop into place on a standard dock plate or in an existing trailer. The system also allows for a variation in trailer designs and heights without compromising reliability. It can be used in a variety of conditions and applications, from refrigerated trailers and warehouses to standard dry vans and open-air docks.
Q: What is the benefits of installing a Freight Runner® system?
A: Trucks sitting at the dock waiting to be loaded/unloaded cost a company money. The Freight Runner® dock-to-trailer conveying system can reduce load/unload times from 45-60 minutes to under 5 minutes, providing a quick return on investment.
Q: How does KEITH® support the customer after the sale?
A: KEITH® is a family business, with the third-generation now involved. That's important, because we approach the company as a family and that extends to our customers, as well. It's everybody's job at KEITH® to provide the best service possible for our customer. KEITH® has an in-house service and technical department that can help troubleshoot any problems that arise. The service department also has service technicians that will travel for onsite repairs or preventive maintenance, depending on the customer's need.
Ready to Order? Questions?
Get in touch using the form below or give us a call at 800-547-6161.
One of our sales representatives will help you out.