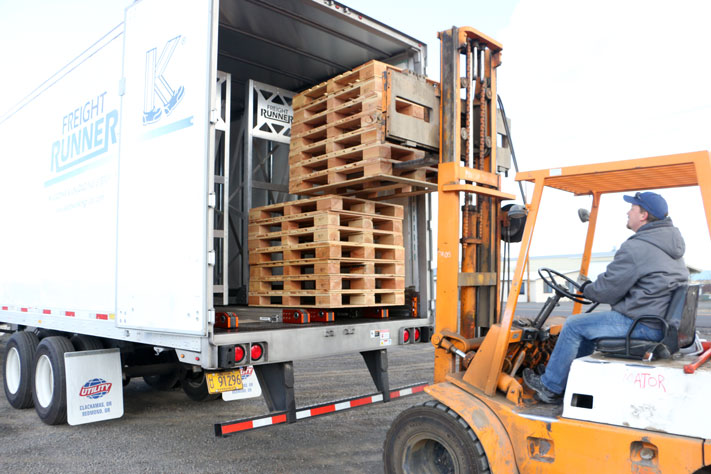 Easy Installation
System is compatible with most trailers and can be bolted to the floor.
One-day installation requires minimal trailer modifications.
Drive Options
Hydraulic: Standard system is operated off the truck's power take off.
Battery Operated: Battery pack operates a small hydraulic power unit.
AC Powered: System can be plugged in at the dock and operated on-site.
Automates Cargo Handling Process
Moves up to 30 ton with a cargo speed of up to 30 feet/minute.
Load/unloads trailer in as little as two minutes.
Auto index function adjusts the index length to accommodate cargo size.
Flexible & Safer Cargo Handling
Dual safety sensors ensure cargo remains inside the trailer's threshold until ready.
Headboard stabilizes cargo, providing a solid base to prevent tipping during transport.
Forklifts don't enter trailer, reducing cargo, trailer and equipment damage.
Automate Cargo Handling with KEITH Freight Runner® Conveyor
Trucks sitting at the dock waiting to be loaded/unloaded cost a company money. The KEITH® Freight Runner™ dock-to-trailer conveying system can reduce load/unload times from 45-60 minutes to under 5 minutes, providing a quick return on investment.
The Freight Runner® dock-to-trailer conveying system integrates warehouse automation with shipping, addressing major issues associated with the loading and unloading of cargo at the dock. By seamlessly connecting the dock conveyor to the trailer conveyor, loading/unloading is both safer and faster. Personnel or equipment no longer need to cross the threshold of the trailer, eliminating confined space entry and reducing forklift damage to cargo or trailers. Depending upon the application, load/unload times at the dock can be reduced to less than 5 minutes.
The chain rail conveyor is designed to create seamless cargo transfer between dock and trailer. Installed in both the trailer and at the dock, it replaces the standard, manual process of cargo handling that includes a forklift operator and and/or an employee using a pallet jack. Once a forklift positions the unitized cargo onto the system during the loading process, the conveyor automatically indexes it forward. The Freight Runner® system can move up to 30 ton of cargo at more than 30-feet per minute. The auto indexing function allows the operator to easily adjust the index length to accommodate the cargo size.
The KEITH® Freight Runner® system requires little or no facility or trailer modifications because it is designed to drop into place on a standard dock plate or in an existing trailer. The system also allows for a variation in trailer designs and heights without compromising reliability. It can be used in a variety of conditions and applications, from refrigerated trailers and warehouses to standard dry vans and open-air docks.
Ready to Order? Questions?
Get in touch using the form below or give us a call at 800-547-6161.
One of our sales representatives will help you out.